ABOUT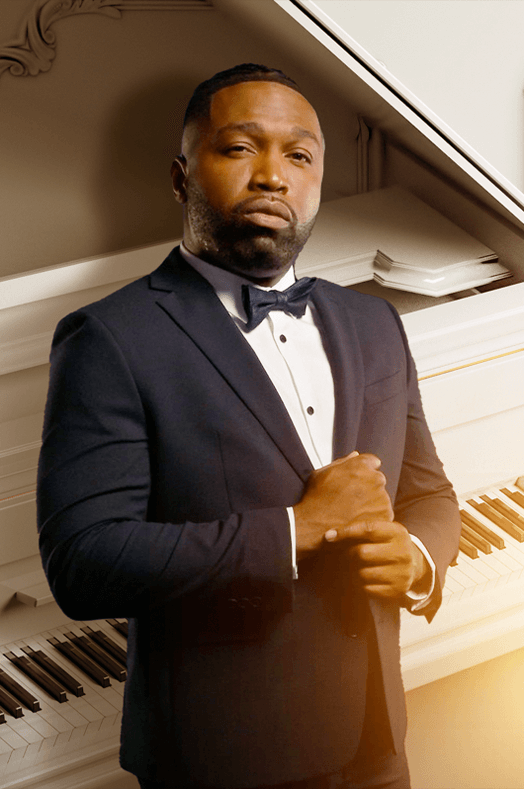 Raised in Baltimore, Maryland, John Paul McGee, at the age of four without formal training, began playing familiar hymns and church songs by ear. Aware of his special gift, Dr. McGee's mother made the sacrifices necessary to ensure that John received formal musical training and development. Dr. McGee studied piano and pipe organ under the renowned late Dr. Nathan Carter and graduated in 2002 from Baltimore School for the Arts. He has been recognized for numerous awards and his musical career has taken him around the globe as a keyboardist, vocal arranger, producer, and songwriter working with popular gospel and secular artists from Patti Labelle and The Isley Brothers to the Clark Sisters, the NFL players choir, VaShawn Mitchell, Kim Burrell and Earnest Pugh. He was the featured pianist in the 2017 blockbuster movie "A Question of Faith" featuring Richard T. Jones and Kim Fields. His instrumental piano album released in 2014 with EPM records yielded him the #9 spot as in the top 10 Billboard recording artists.
Dr. John Paul McGee is the current assistant chair of piano at Berklee College of Music in Boston, Massachusetts. Dr. JP earned a Bachelor of Arts Degree in Music with a concentration in Piano Performance from Bethune Cookman University, a Master of Arts in Religion Degree from Liberty University a Master of Sacred Music Degree with a concentration in Pipe Organ Performance from Emory University, and most recently a Doctorate of Ministry degree with a concentration in Pastoral Care and Counseling from The Interdenominational Theological Center in Atlanta, Ga.
The groundbreaking research performed in his dissertation, "A Sound for Distressed Souls: Gospejazzical as an NTU Approach for Coping with the Vocational Stressors of the Black Pastor" , investigates the healing and curative powers of his new pianistix genre, Gospejazzical. Gospejazzical is a sound that unites three powerful genres (Gospel, Jazz and Classical) into a unique fusion that entertains, uplifts, and inspires all who hear.
In addition to his musical giftings, Dr. JP (as he is affectionately called), is a sought-after preacher, workshop facilitator, panelist, clinician, and speaker on global worship, church leadership, transformational preaching, and music. In June 2021, Dr. JP McGee launched a virtual faith community called "True Destiny Christian Community" where he leads weekly prayer, praise, bible study, and worship experiences. He is the author of "Elevate", a 21-day devotional journey released in 2019 with Books 2 Live By Publishing with an accompanying instrumental album entitled "Elevate".
STAY CONNECTED & SUBSCRIBE
Executive Administrator and Booking – Willie Nelson, III